The Lord Mayor is the first citizen of Nottingham.
The Lord Mayor of Nottingham is Councilor Carole McCulloch.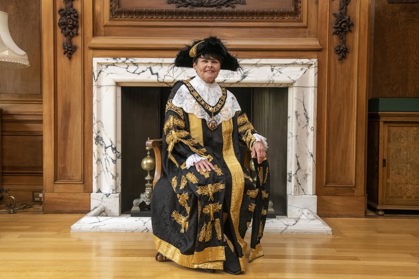 Key Tasks
Preside over the meetings of the Council (full Council) as prescribed in the Local Government Act 1972, schedule 12, paragraph 5
Receive members of the Royal Family and other important visitors to the city
To act as a symbolic figurehead for Core City activity and host visits by Lord Mayors, councillors and officers from those cities
Represent the City Council at traditional civic events such as the Legal Service, Remembrance Sunday the Civic Service etc
Represent the City Council by attending external functions, which celebrate the contribution of organisations from all sectors to the life of the city of Nottingham
To preside over Citizenship ceremonies to welcome new British citizens to the city of Nottingham
Take salutes of military and voluntary organisations that either have the right to, or request the right to, march through the city
To be the president of the Interfaith Council and visit places of worship for a range of faiths throughout the civic year
To nominate a charity and help raise funds for that charity and the standing Lord Mayor's charities
Quasi-judicial role of Lord Mayor to sign documents
The Lord Mayor's Chaplain
The post of Lord Mayor's Chaplain is an honorary one, and as such is unpaid. The Chaplain's duties are to give spiritual guidance to the Lord Mayor and support on civic occasions.
The Lord Mayor's Chaplain is Reverend Jo Tatum from the Diocese of Southwell & Nottingham
For more information please contact the Civic Office