Find out how to recycle those small electrical items that may be broken or not used around your house.
Nottingham City Council have launched a pilot scheme where by residents can recycle their unwanted electrical items that are small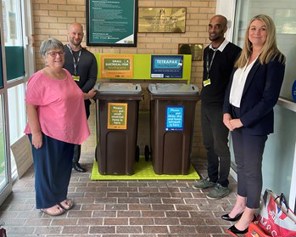 enough to fit into a carrier bag at local leisure and community centres around the city.
Currently we have three locations across the city which include; Clifton Leisure Centre, Loxley House and The Dales Centre.
Examples of items you could drop off at either of these locations is Mobile phones, chargers, electronic toys, hairdryers, smaller kitchen appliances such as toasters or electric scales.
Please remove all batteries before taking them to the recycling points.
Foil lined cartons recycling points
Foil lined cartons that are clean, dry and empty can also be recycled at the same places in their dedicated bin. Foil lined cartons includes items like long-life milk, Juice and Pringles cans.